Other Services
Cleaning Services
Labor Supply
Guard Scan - Electronic Guard Tour Verification Equipment
CCTV Systems
Access Control Systems
Fire Alarms
Armed Emergency Response
Manpower Supply
Pest Control
Executive Protection
Cash-In-Transit-Armed Vehicle Transport
Aviation Security
Supply Chain Security
Patrol Vehicles for 24-Hour Random Inspections

Consider MPA your one-stop-shop for all your manpower needs.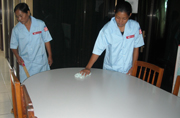 cleaning services
MPA also provides cleaning and sanitary related services. We serve many major buildings, banks, airports and factories. Our expert cleaners can be contracted either part-time or full-time to meet your specific needs. Our staffs are equipped with the latest high tech cleaning equipment and special cleaning liquids that are safe, don't pollute or otherwise harm the environment.
labor supply
Consider MPA if you need additional labor such as receptionist, drivers, loaders, or clerks. All staff are carefully screened, background checked and trained, prior to being assigned to a contract.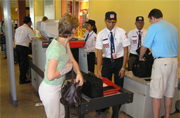 guard scan-electronic guard tour verification equipment
MPA's new Guardscan Data Collection System verifies guard patrols by reporting the exact time vital areas are checked. It also records the officer conducting the checks to ensure staff are rotated. The system is user friendly, easy to download and records specific pre-programmed security events by entering simple number codes.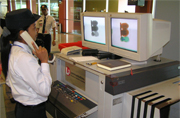 CCTV systems
CCTV cameras and digital recorders greatly deter crime. They record security related events at critical access areas. These systems help verify the performance of security officers and accurately record and store information for use in the event of crime. Incidents can be replayed for use in conducting investigations after a crime.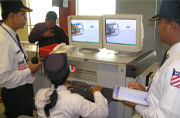 access control systems
One of the most important functions of your security program is to control access. MPA systems engineers have the latest equipment such as proximity card and reader systems that record time and attendance and restrict access to authorized persons only. Property loss or other criminal investigations are made easier when you know who had access to a specific zone or area and for what period of time.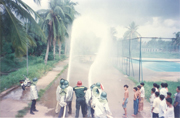 fire alarms
MPA has a wide range of fire alarms, smoke detectors and fire fighting equipment. Smoke detectors of saved countless lives and property. They are easy to install and maintain. Our fire alarm systems can be linked to our Central Security Command Center if requested. We can monitory your home of factory and quickly respond if a fire is detected.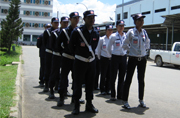 armed emergency response
Our Rapid Response Teams work together with the police under license to quickly deliver an armed response if required 24- hours-a-day. MPA also has roving inspectors that are randomly inspecting all our sites. All of our management are available anytime to assist you with any security need.