Message From Top Management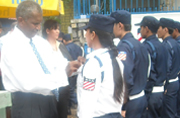 As an industry pioneer in the region since 1951, MPA International Limited has served to provide outstanding security services to its customers across all major industries. Today, MPA is proud to be the largest security services provider and employer in Cambodia, boasting more then 3,000 employees and more then 50 years of security management expertise in the region and specifically 14 years in Cambodia.

Headquartered in Phnom Penh, MPA has rapidly expanded its reach to Siem Reap, Sihanoukville and Battambang, to meet the needs of its loyal clientele. The visionary team of MPA is committed to continuous innovation to enhance service delivery, efficiency,and customized security requirements of each client.

Due to this, our offerings have extended over the years beyond guarding to include Cash-In-transit; Emergency Response and Cleaning Service. The new shareholders and board of directors of MPA have vast experience in one of the largest and most established security and cash management services provider in Asia Pacific that had worked closely with its clients in the banking and finance industry, retail sector, government agencies, and foreign entities. It is the vision of the new team to bring this experience and expertise to the Cambodian Financial and Corporate Market.

We thank you for your continued support and look forward to being your preferred service provider.