Electronic Security Systems
If you have a problem
we have the solution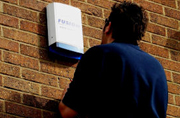 electronic security systems
MPA provides our customers the latest Electronic Security Systems such as electronic access control equipment, CCTV cameras, security alarms and motion sensors to deter crime. These advanced systems are very effective at monitoring, auditing and recording high-risk areas and security portals. Electronic security systems can reduce your overall security budget by replacing security personnel with systems.

We offer electronic security system design, installation and maintenance to ensure your systems are operating to full capacity. MPA also can link your security systems to our 24-hour Emergency Response and Command Center. This center includes the latest in event alarm software monitoring equipment. We monitor your systems, prepare reports and if necessary deploy armed police with our Rapid Response Team to your home or office.

MPA also offers a wide selection of fire prevention systems to include smoke detectors, sprinkler systems, fire extinguishers, surveys and annual audits. Our fire alarm systems can also be linked to our 24-hour Emergency Response and Command Center. Our response teams undergo hours of advanced fire fighting training. We have extinguished many small fires that could have turned into major catastrophes.