About Us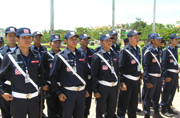 MPA Security
MPA is the industry leader. We provide guaranteed quality and cost effective security. The proof is our client list. No other security company can claim the kind of client loyalty that MPA enjoys. Why is MPA different? There is no single answer. It is a team effort. Security is our business and we are determined to be the best in this industry. Pride and loyalty cannot be bought; it is earned through leading by example, by being the best, by treating our staff fairly and by paying wages and offering generous benefits.
MPA History
MPA International Limited is Cambodia's first licensed private security company, providing professional manned guarding, electronic security systems and security audits for select clients. Established in 1995, MPA International Limited was the vision of McFadden Protective Agency (MPA) with over 50 years of experience in Asia.

MPA International Limited, specializes in conducting security assessments to improve your security and reduce budget costs. Our senior management are European and Ame-rican security experts.

Having the right people is important in the security industry. Most of our staff have either police, military or many years of private security work experience. Together, we protect your life and property from crime, workplace violence, terrorist threats and other hostile acts.

Throughout our history, training has played a critical part in developing superior security officers and management. MPA in fact established the first basic guard training course and later our supervisor course. We now also have an advanced security super-visor's course.

security services
Physical Guarding
Electronic Security Systems
Executive Protection
Cash-In-Transit-Armed Vehicle Transport
Aviation Security
Supply Chain Security
Patrol Vehicles for 24-Hour Random Inspections
other services
Manpower Supply
Cleaning Services
Pest Control
Air-conditioner Cleaning
MPA Highlights
Cambodia's first private security company 11 years of experience with over 2,000 security officers
Our Clients include: Embassies, Airports, Shipping Ports, Factories, International Schools, Banks and Residences
We established the first professional Cash-In-Transit service with operations throughout the country today
We provide Electronic Security Systems and Executive Protection
why contract security ?
Today, security managers place great value in outsourcing a partner that is reliable, and has professionally trained officers and management. There are many benefits from contracting MPA's security services:

Professional Protection

MPA is responsible for hiring and terminating staff without any cost to you. We quickly replace any undesirable staff. MPA covers all medical care and uniform costs. We processes the overtime, holiday and severance pay. We carefully screen the backgrounds of all recruits. All security officers receive two weeks training in subjects such as fire prevention, criminal identification, report writing, traffic control, first aid and bomb threat/bomb recognition training. Our security officers are equipped with a full range of the latest security equipment like side handle batons, hand cuffs, flash lights and radios for instant communication for rapid response. We operate a 24-hour, seven-day-a-week, and security command and response center with the ability to communicate with our security teams throughout the country. Our emergency response program includes direct links with police units in order to direct armed response if required. For event security, or in an emergency, with a simple phone call we can immediately provide additional security staff. You can easily increase or decrease staff without incurring penalties.